Last stage of the Series by Peter Auto, in Portugal. Estoril Classics returns from 6 to 8 October
From 1 to 3 September, Peter Auto welcomed its 9 traditional grids for the 13th edition of the Dix Mille Tours at the Circuit Paul Ricard.
Le Mans Classic 2023 comes to a close, with the Centenary of the 24 Hours of Le Mans taking centre stage. A record-breaking weekend, with 235,000 spectators in attendance!
Motor racing is often passion taking over reason. I have tried to combine them both. The recipe for success is quite simple: a few ideas, enthusiasm, a natural sense of service, lots of work, without forgetting a major point, efficient and reliable staff.
Peter Auto Collection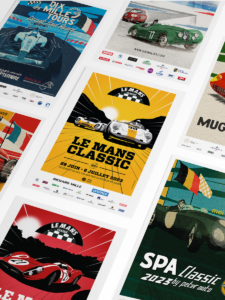 Newsletter
Follow the news of Peter Auto by subscribing to our monthly newsletter! Your email address is only used to send you the Peter Auto news. You can use the unsubscribe link integrated in the newsletter at any time.
News
🇫🇷 Bien connu de certains de nos événements, notamment Estoril Classics en 2021 ou encore Spa-Classic cette année, Zak Brown revient pour la dernière course de la saison ! Le CEO de McLaren Racing, fera équipe avec Richard Dean, en HTC - Ford Capri RS 3100 - et en CER2 - Porsche 935.
-
🇬🇧 A well-known figure on some of our events, including Estoril Classics in 2021 and Spa-Classic this year, Zak Brown is back for the final race of the season! The McLaren Racing CEO will team up with Richard Dean in the HTC - Ford Capri RS 3100 - and CER2 - Porsche 935.

#estorilclassics #historicracing #seriesbypeterauto #collectioncars #classiccars #CircuitoEstoril #peterauto
Groupe Edmond de Rothschild Estoril Classics
Thebeautifulwatch VICOMTE A. Avon Tyres ... See MoreSee Less
3 days ago