Dernière étape des Series by Peter Auto, au Portugal. Estoril Classics revient du 6 au 8 octobre
Du 1er au 3 septembre, Peter Auto a accueilli ses 9 plateaux traditionnels lors de la treizième édition des Dix Mille Tours au circuit Paul Ricard.
Clap de fin pour Le Mans Classic 2023, sous le signe du Centenaire des 24h du Mans. Un week-end record qui a vu défiler 235 000 spectateurs !
La course automobile voit très souvent la passion l'emporter sur la raison. J'ai essayé de concilier les deux. La recette du succès est en fait assez simple : un maximum d'idées et de l'enthousiasme, le sens du service, beaucoup de travail, du sérieux ; sans oublier le principal, une excellente équipe.
Collection Peter Auto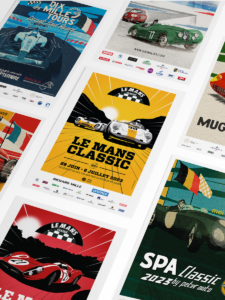 Newsletter
Suivez l'actualité de Peter Auto en vous inscrivant à notre newsletter mensuelle ! Votre adresse de messagerie est uniquement utilisée pour vous envoyer l'actualité de Peter Auto.
Actualités
🇫🇷 Peter Mullin est décédé à l'âge de 82 ans. Nous avons eu la chance de partager à de nombreuses reprises de grands moments d'amitié avec ce collectionneur éclairé et son épouse, tous deux amateurs de voitures françaises.

Nous nous associons à la tristesse de Merle et sa famille et leur présentons nos plus sincères condoléances.

-
🇬🇧 Peter Mullin has passed away at the age of 82. We have had the privilege of sharing many great moments of friendship with this enlightened collector and his wife, both enthusiasts of French cars.

We join Merle and her family in their sadness and offer our sincere condolences. ... See MoreSee Less
2 days ago
3 CommentsComment on Facebook
Peter Mullin en photo - avec sa Bugatti 57 Atlantic de 1936 - remportant le concours d'État de Chantilly Arts & Élégance Richard Mille 2017.