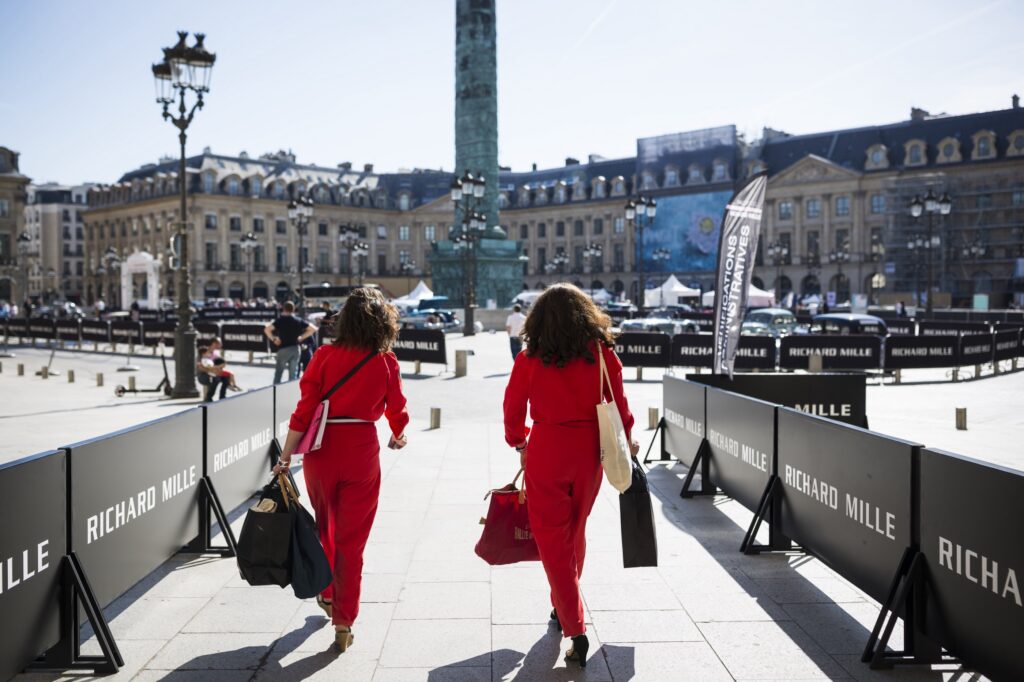 The 21st edition of the Rallye des Princesses Richard Mille will take place from 14th to 19 th May 2022 between Paris and La Baule and has attracted over 80 crews. Each of the participants will cover 300 to 350 km per day bringing them from beach to beach: from Le Touquet to Deauville and then from Dinard to La Baule. This 100% women's rally has been organised for more than 20 years along the most beautiful roads in France and is dedicated to enthusiasts who love collector cars and motor sport. Viviane and Patrick Zaniroli, the creators and organisers of the Rallye des Princesses Richard Mille, will be present and will hand over the reins of this women's rally to the Peter Auto teams. This smooth transition will take place throughout the week of the event.
This edition synonymous with discovery and passion will amaze each participant by the beauty of places off the beaten track that are steeped in history. Epicureanism will also play a part and refined dishes will be specially concocted by male and female chefs to delight the taste buds of the different crews. This rally is really an exceptional experience, a unique moment of sharing between driver and co-driver. The competitors will start from the emblematic Place Vendôme in Paris and they will arrive in Le Touquet, Deauville, Dinard in succession as well as the final leg, La Baule, where they will spend two consecutive days. This regularity rally will enable its participants to discover the back roads of beautiful regions like Normandy, Brittany and the Loire Valley, each with its own particular shoreline. This route has a singular ring to it as each crew will have to stop at the seaside over the five legs.
A REGULARITY RALLY
Regularity will be the order of the day both in terms of driving and navigation to reach the end of this race. The event requires as much accuracy from the co-driver as it does from the driver. The crew can be penalised for arriving a second early or for arriving a second late. They must find a balance between acceleration and careful calculations so it's a tricky, difficult and exciting challenge! This is why each driver and co-driver taking part for the first time must follow a sporting regularity training course.
FOCUS ON THE CREW COMPRISING AMANDA MILLE AND MARGOT LAFFITE, THE GODMOTHER OF THIS EDITION
Among the competitors in this event are two women who have had exciting careers: Margot Laffite, racing driver and TV host and Amanda Mille, Richard Mille brands and partnership Director.
Margot Laffite, the godmother of the 21st edition and friend of the Richard Mille brand, is a familiar face at motor racing circuits all over the world thanks to her talent as a TV host as well as her driving experience (she has carried out hundreds of tests of competition cars). She has been a regular participant in car competitions organised by Peter Auto and previously took part in the Tour Auto in April 2018 with Olivier Pernaut, Jean-Pierre Pernaut's son, in a 1965 Alfa Romeo Giulia GT Sprint. In 2017, she was a member of the jury at the Chantilly Arts & Elegance Richard Mille concours d'élégance.
Amanda Mille, the second member of this crew, is a passionate fan of motor sport. In particular, she looks after the Richard Mille Racing Team, an endurance team created by the brand that is currently competing in LMP2. The projects that Amanda leads in the motor sport milieu express her determination to make people think about, and call into question, the prejudices concerning the place of women in motor sport.